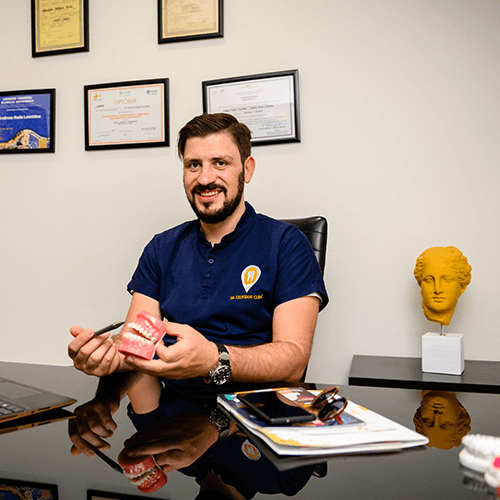 Dr. Andreas Radu Leonidou. D.D.S, M.S.D, M.S.Orth.
Dr. Leonidou was born in Limassol, Cyprus.
He studied at the university "Carol Davila" in Bucharest, where he earned his degree as a Dental Surgeon.
After graduation, he started his post-graduate training in becoming an Orthodontist.
For 3 years he got his training exclusively in Orthodontic cases at the "Carol Davila" Orthodontic state clinic in Bucharest. He also started working at the "American Medical Center" of Bucharest.
Dr. Leonidou took his Orthodontics training a step further by studying alongside some of the bigger names in world Orthodontics such as , Prof. Dr. Dragos Stanciu, Prof. Dr. Richard P. McLaughlin, Prof. Dr. Andre Horn, Prof. Dr. Wolfgang Gruner and Prof. Dr. Larry Brown in Bucharest, Romania, Prof. Dr. William Proffit, Prof. Dr. David Sarver, Prof. Dr. Dirk Wiechmann, Prof. Dr. Hugo DeClerk, Prof. Dr. Franz Van Der Linden, Prof. Dr. Bjorn Zachrisson and Prof. Dr. Dan Grauer in Barcelona, Spain and was part of the TWEED International Foundation For Orthodontic Research Course, Tucson, Arizona, U.S.A in 2011 with Prof. Dr. Herbert Klontz
He speaks fluently Greek, Romanian and English.